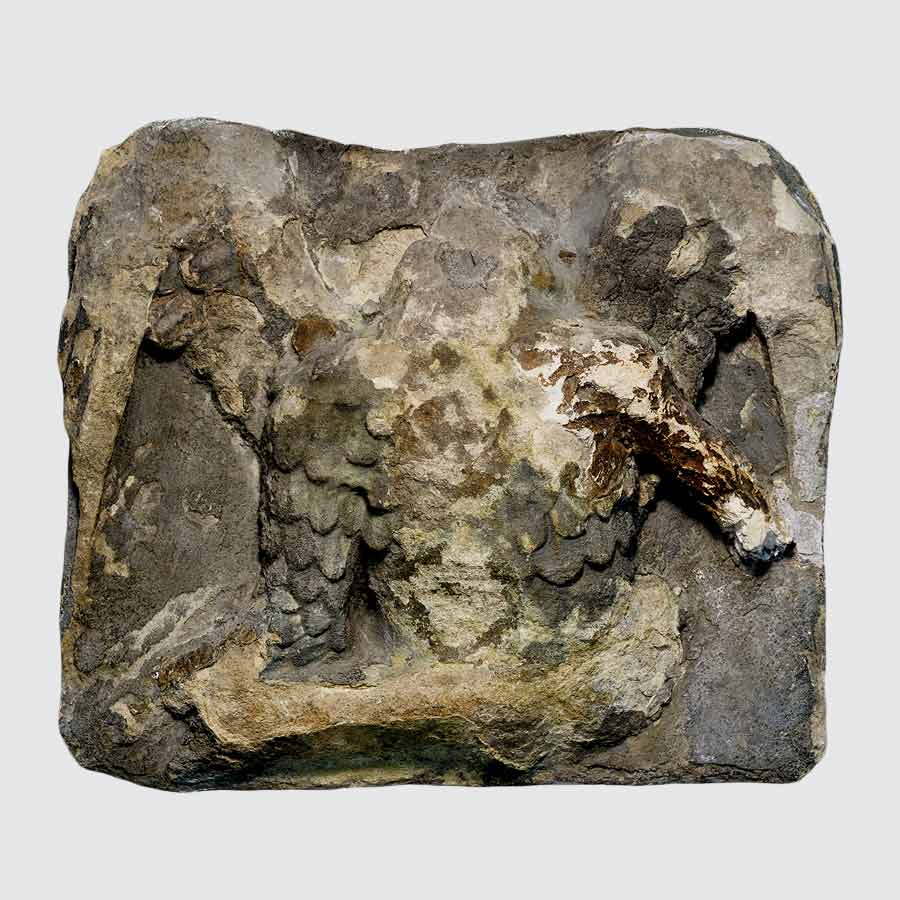 Of Angels, Space and Place
What does a medieval sculpture of an angel reveal about New College?
What could look like patchwork to the undiscerning eye might in fact capture part of NEW's essence.
You could be forgiven for walking right by him, the brownish-gray stone angel plastered into the eastern wall of Wetmore Lounge. And even if you did notice his stubby, textured form beside the large mural of the first two men at the helm of New College—Frank Wetmore, the original principal, and Stuart Wilson, the college's first registrar—you might do a double take. The prominent wings clearly denote a cherub, but, alas, no rosy cheeks here: the creature floats headless above passersby.
Unlike, say, the chimera that sits atop the newel of the stairs at University College, our angel has not taken on much significance for New College lore. He has been around since (almost) the beginning, though. The year after NEW saw its first permanent building completed in 1964 (having until then accommodated its students in temporary residences on St. George Street), the warden of New College at Oxford University, Sir William Hayter, presented him to our own college. Legend has it that the angel dates from 1379 and formed part of the original structure of New College, Oxford.
Given in celebration, he was likely meant in part to serve as guardian, in part to establish a lineage. Incongruously anchored, as he is, in the decidedly 1960s undulations of New College's original building, he still keeps watch: Wetmore Lounge is a hive of student activity, of laughter, learning and, not infrequently, stealth naps. And he is one of many bits of history and association strewn about the college, sometimes in unexpected places: a whole collection of Woodlands Indigenous artwork, a mural honouring the civil rights movements of the mid-twentieth century, a brass rubbing of a 15th-century Archbishop of Dublin, secret gardens, bee hives, witty dedica – tion plaques. The list goes on.
What could look like patchwork to the undiscerning eye might in fact capture part of NEW's essence, if movement, transformation and innovation can be considered essences. None of the three can occur without bringing together that which at first glance conflicts. This idea is woven right into the fabric of New College. And we mean fabric quite literally here, as in the structural plans for the college's buildings. Integrating residential, academic and administrative functions, the architecture combines the practical and professional with the social. Space, in other words, is used to create its homier cousin, place. Even Wetmore and Wilson Halls, constructed in very similar styles, show differences in their use of space. In part these may have resulted from differences of opinion about the ideal environment for teaching and learning voiced by two giants of Canadian thought, Northrop Frye and Marshall McLuhan. The two men were colleagues and intellectual sparring partners at Victoria College and St. Michael's College during NEW's founding years.
So now, as New College continues to grow and change shape yet again, we'd like to pass it over to you, dear friends and readers: Which spaces at NEW felt like place to you? Let us know at editor.renew@utoronto.ca.