New College comprises three buildings: Wetmore Hall, Wilson Hall and 45 Willcocks. Each has a variety of spaces, including residence accommodation, bathrooms, classrooms, offices, meeting rooms and lounge areas. Keeping the fabric in good shape covers a whole range of activities, from event setup and cleaning to residence administration and repairs large and small. Performing all these vital services is a dedicated team of some 25 people, on whose efforts the college relies for the success of its day-today operations. The organization and oversight of this staff falls to Karen Spence, building services operations manager, who works closely with Carol Yao (building services coordinator) and John Alves (caretaking foreperson).
At the end of the school year, these workers cannot look forward to a slow period—in fact, it's quite the opposite. From May to the end of August, New College Residences (ncsummer. utoronto.ca) offers short- and long-term stays to Toronto visitors, in addition to providing accommodation for the students attending our International English Program and the Youth Summer Programs. In 2016, that made a grand total of 75,568 bed nights (yes, you read that figure correctly!). It should be clear, then, how essential the caretaking team is to the success of these enterprises as it deals with an ongoing profusion of guests. Between cohorts of Summer Program students, for example, the staff may be called on to clean up to 300 rooms in a single weekend. When September arrives, students, of course, once again take up their places in residence, and the hardworking crew segues into meeting the demands of a new academic year.
We are pleased and proud to present here a brief introduction to a few of these essential support folk. Theirs are very likely familiar faces to alumni, and we thank these crucial members of our community for the opportunity to hear a little from them about their perspectives on work, leisure and life.
Siri Hansen is a writer and communications professional well known to the New College community. She is currently lending her talents to U of T's Department of Economics.
Theo
Caretaking—Service Worker
Work Satisfaction
"The people here are nice and are happy to work together. It's a good environment. The students are great too."
Playtime
"I used to play soccer, but now I have a problem with my knee. I watch it on TV, though—the British Premier League matches every Saturday. I also like fishing—I go with my son to Lake Simcoe for a day trip now and then."
The Good Life
"Having a family is a good life. If you chase money all the time, you are far from your family because you're so busy at work you don't have time for them. You're going to have problems if you're always working, never at home."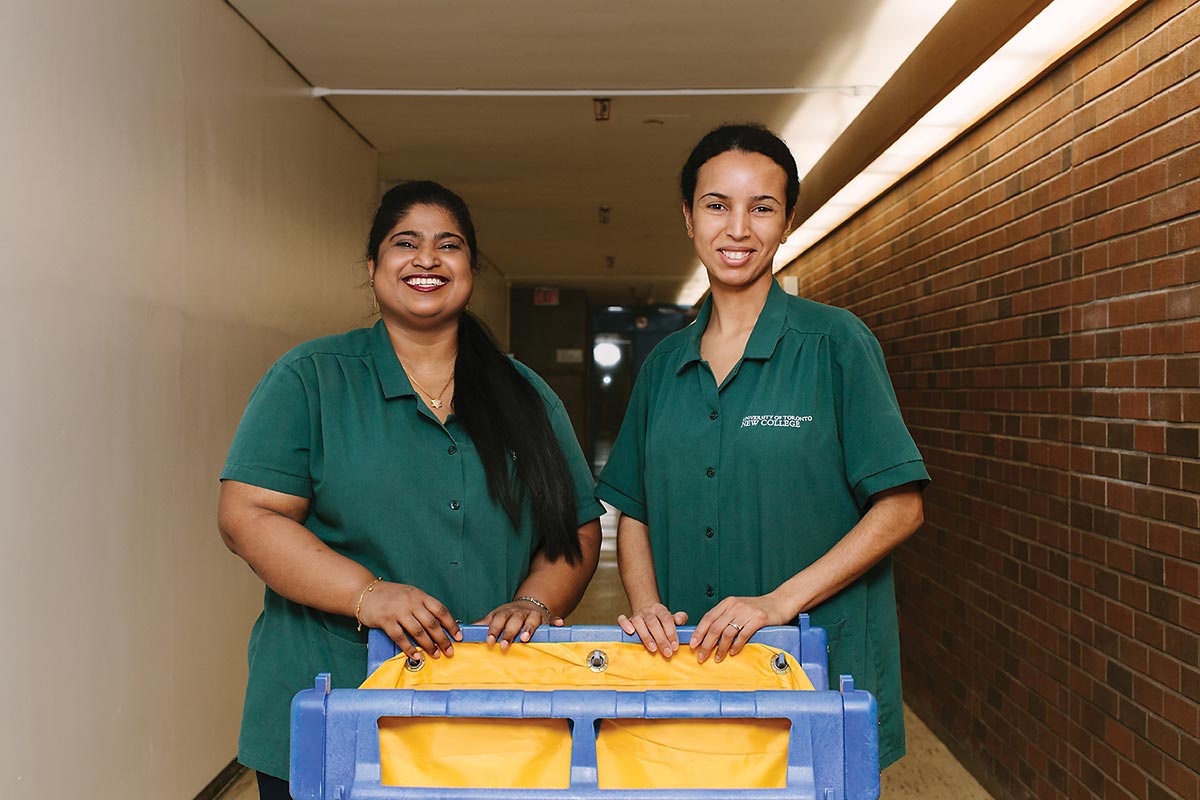 Ana
Caretaking—Service Worker
Work Satisfaction "The area I'm responsible for is like my home—even though it's the same job every day, you want it to be clean. There's a great team spirit at New College; everybody has each other's back here all the time."
Playtime "I like to spend free time at my house. For a pet I got a betta [Siamese fighting fish]. He was so cute! But, sadly, he died. I buried him in the sand at the lake. People said, 'Who buries a fish? Just flush it.' But I said, 'Nooooo! I wouldn't do that.' I gave him a nice ceremony."
The Good Life
"Smile every day. If I smile at somebody, they will smile back. So that moment is going to make us happy. With a smile a conversation starts."
Mariana
Caretaking—Service Worker
Work Satisfaction
"I like the fact that everything's nice and clean, and the students say thank you for cleaning everything. That's very satisfying. We have a good team. Everyone contributes. If someone is not here, that makes a huge difference."
Playtime
"I love movies. I like drama, comedy, everything, really—except horror. My husband and I like to go out to eat. Toronto is perfect for that—we can get all kinds of food."
The Good Life
"Be good to yourself. That's the most important thing. I was happy when I realized that you have to give yourself to every situation. Then you start being happy."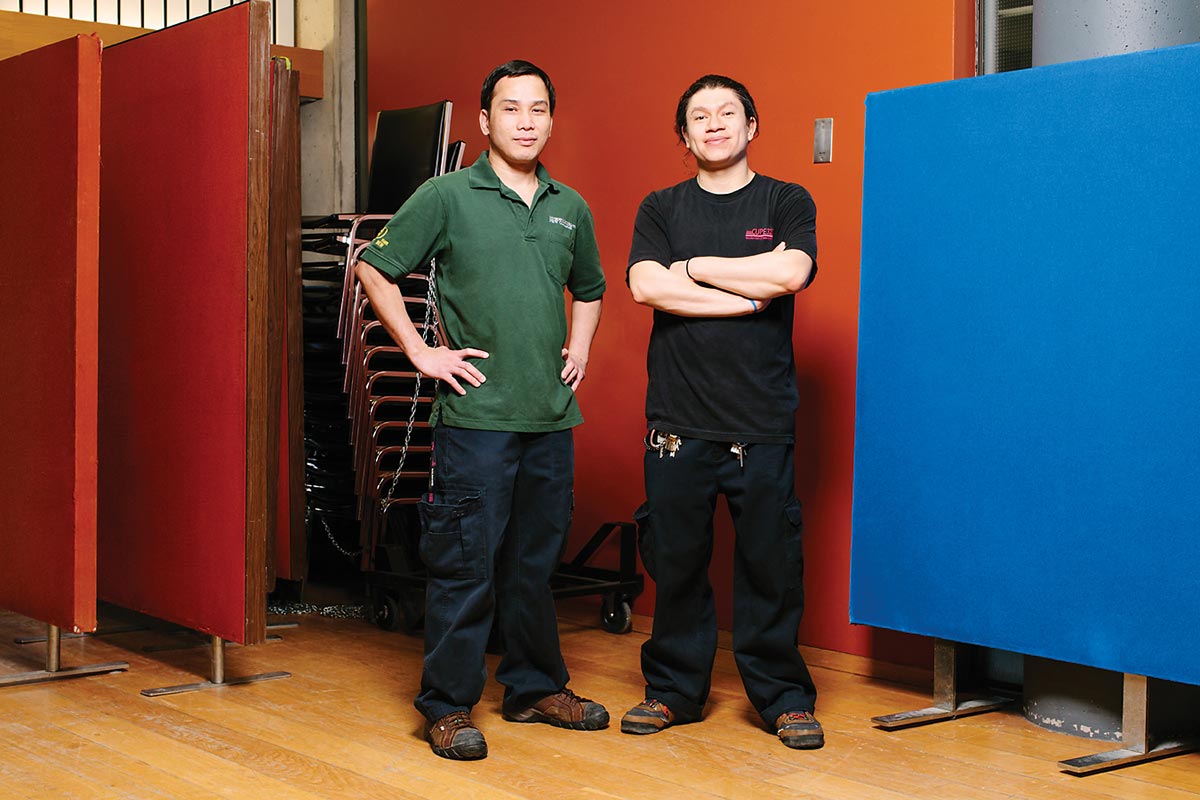 Dennis
Caretaking—Maintenance Worker
Work Satisfaction
"Walter and I work well together. We have to communicate and be organized in everything we do. We have to work things out step by step."
Playtime
"I like getting together with friends, and I play the drums and the guitar. I've been collecting action figures for seven years— Transformers, mainly, but also some Marvel figures. I have over a hundred."
The Good Life
"Always find the time to do the things that are important to you."
Walter
Caretaking—Maintenance Worker
Work Satisfaction
"What is satisfying about my work here is a sense of accomplishment. When somebody says to you, 'Wow, good job,' it feels good. We know we're important to making the college work."
Playtime
"I like movies. I exercise. I go out with my friends and with my girlfriend. I've played baseball and football, and I tried tennis recently—I'd wanted to for a long time. I'm not good at it. I'm terrible. But I'm getting there."
The Good Life
"Be healthy. When you're healthy, everything follows."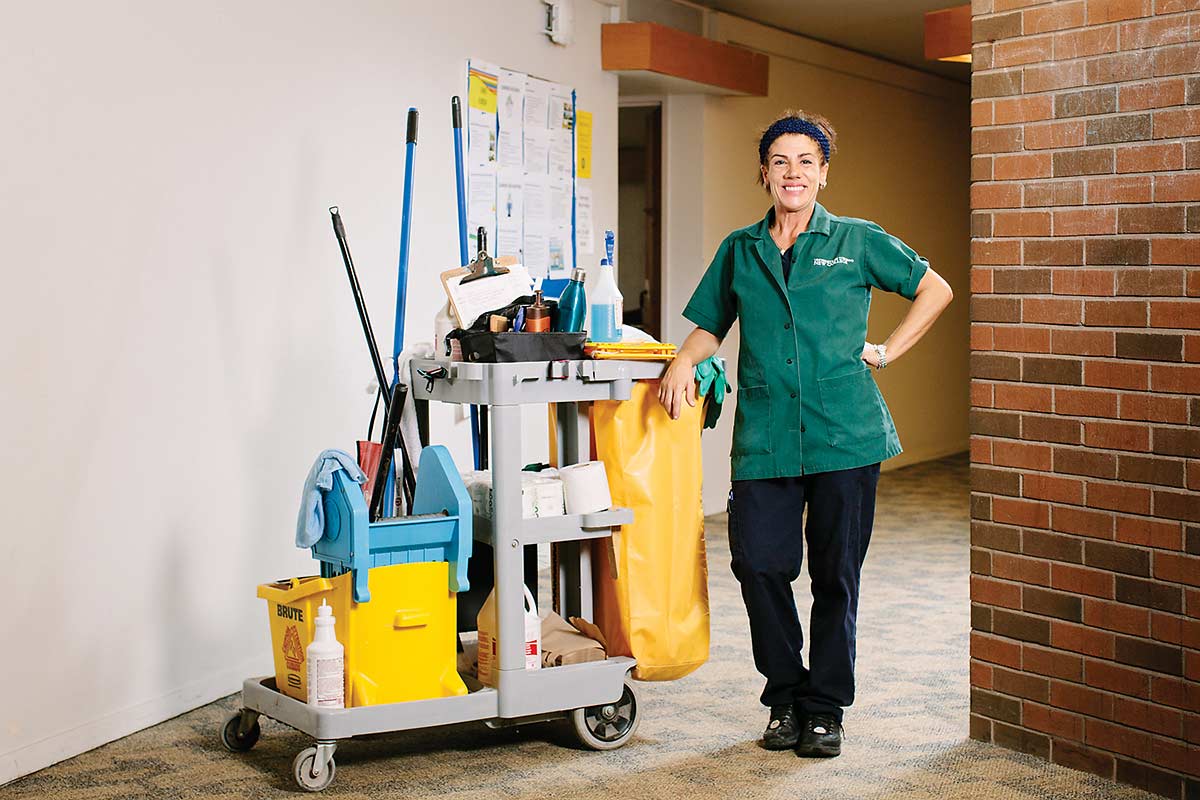 Maria
Caretaking—Service Worker
Work Satisfaction
"I know when I've done a good job, I feel it. I know myself, so it completes me when I know I've done my job properly. It makes me feel good at the end of the day. And this is a great group. Co-workers are easy to get along with."
Playtime
"I like working out. I like going to the beach a lot—I love swimming. I like to take care of my kids. When I get home, I'll put music on and dance."
The Good Life
"Be happy and make the best of things. What's going to make me happiest is when I become a grandma. I'm totally looking forward to that. I am going to spoil my grandchildren rotten!"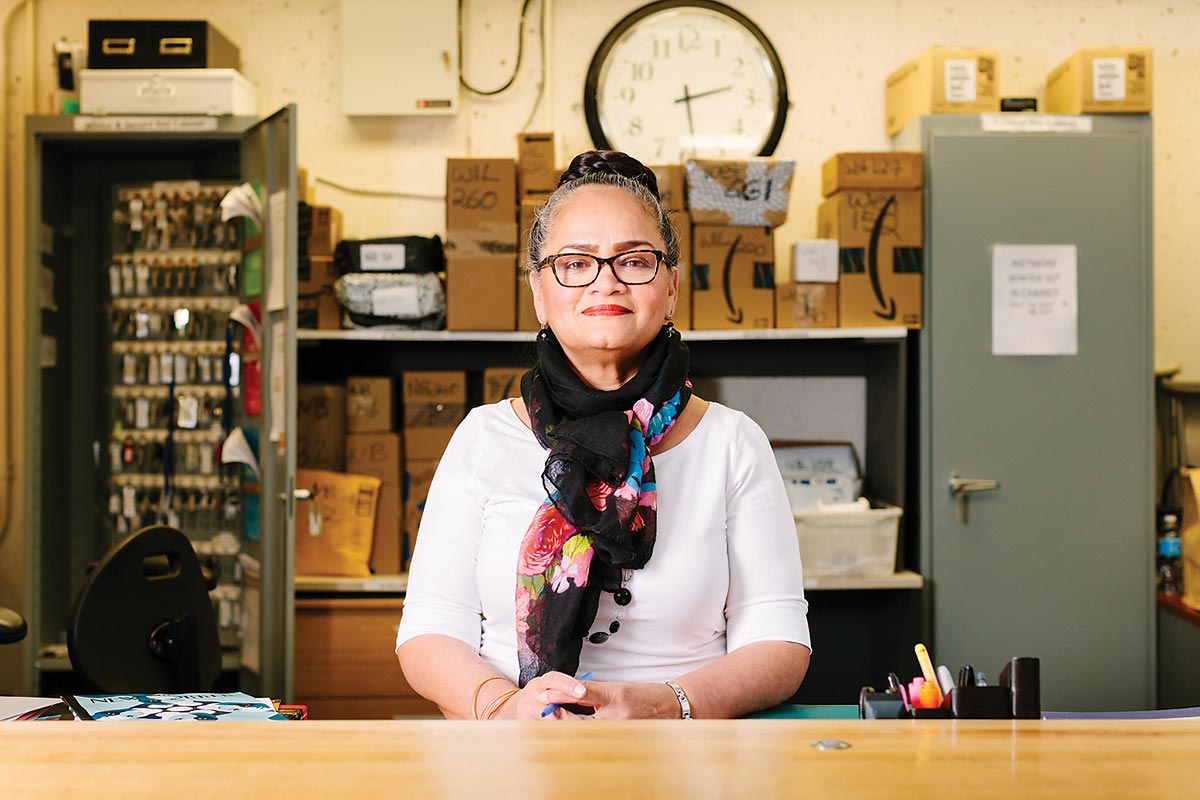 Pam
Senior Residence Steward
Work Satisfaction
"I'm a mom first, and coming from that role, I find it really rewarding serving students. I am always ready to help them if I can. When we have alumni events, it's good to see them come back as successful professionals. New College is different, a real community. You don't realize how special it is until you get exposed to other places."
Playtime
"I love to dance. You don't need to have a drink, you don't need to be on anything—this is a high in itself, it really is. It's a flow that makes you feel so good. I also love to cook; I'm a foodie. I'm really interested in where my food comes from. I haven't had a fast-food hamburger in more than 25 years!"
The Good Life
"Be a productive, honest person and don't be judgmental. Learn to live with your neighbours: what you give is what you're going to get back. It's OK not to particularly like someone, for example. Just don't let it rule you. You always have a choice."
Bernard
Caretaking—Maintenance Technician
Work Satisfaction
"It's particularly satisfying when students thank you. They often show appreciation by dropping off treats. Past students might be in the neighbourhood and they'll drop by. Workwise, it's unpredictable—you never know what the day's going to bring. I get to come up with solutions, to problem-solve all the time."
Playtime
"I enjoy working with my hands, so I'm constantly doing stuff around the house. I like to refinish furniture. I'm always keeping an eye out for things people throw out. I'll see something and straight away visualize what I can do with it."
The Good Life
"If you're happy doing what you do, you're going to have a good life. Life is too short to be wasted on the what-ifs. Learn to appreciate what you have. It's amazing to see how life changes, and in the end you can't take it too seriously."
Tom
Caretaking—Maintenance Technician
Work Satisfaction
"I'm lucky to work with a fantastic group of people. And every day I get the opportunity to fix things, to make them better. There's a lot of variety. It's like solving puzzles: I have to diagnose what the issue is and work out the best way to put it right."
Playtime
"At home I do repairs and improvements all the time—I've just finished a reno of our laundry room. We go on family outings. We have a young family, and things are always busy. So occasionally my wife and I arrange to spend time together, just the two of us. A bit of peace and quiet sometimes is really nice!"
The Good Life
"Be stress-free and don't let little things bother you. It's important to keep an open mind and to not make assumptions. You just never know—people will surprise you all the time."
Caretaking staff: 20
Maintenance technicians: 2
Front-desk staff (Wilson): 3
Combined years of service as of 2017: 368
William Doo Auditorium (capacity up to 600): Approx. 40 large events every year
For Wetmore Hall, Wilson Hall and 45 Willcocks combined
Residences
Floors: 15
Bathrooms/showers: 34
Common areas (kitchens, lounges): 20
Administration accommodation
Offices: 107
Meeting rooms: 8
Public spaces
Classrooms/lecture theatres: 19
Lounges: 3
Bathrooms: 21
Total area: 22,001 square metres
Total number of students: 5,447 (of whom 740 are in residence)
Bed nights sold in 2016:
Summer programs: 22,250
New College residences public visitors: 53,318