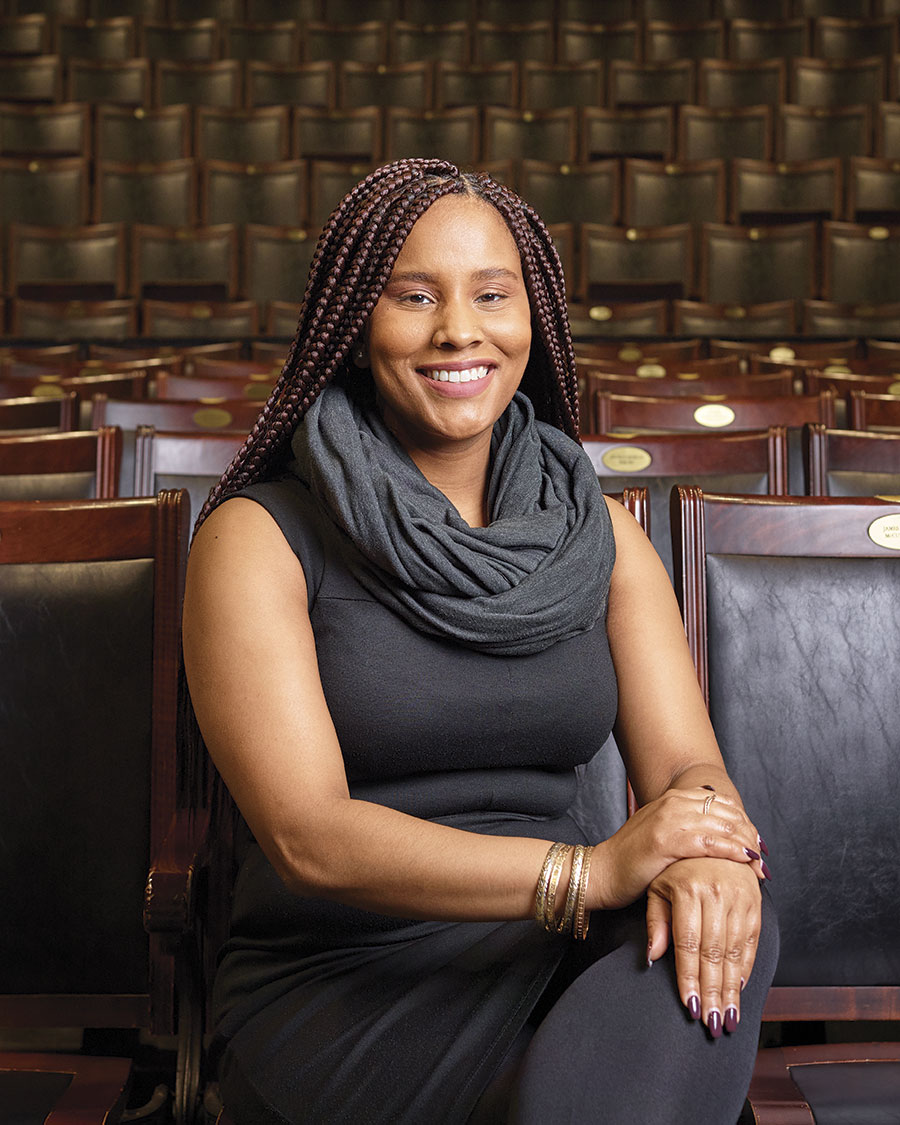 Lydia Gill. Photo: Michael Barker.
Lydia Gill, the University of Toronto's first student recruitment officer for equity outreach and support, helps demystify undergraduate life for under-represented groups.
When Lydia Gill (New '12) began her undergraduate studies at the University of Toronto, it all seemed like a bit of a mystery. Words and concepts buzzed about her, but she did not really know how to grab a proper hold of them. The confusing concepts in question were not those taught in class. Those posed no particular problem. But what, exactly, was the function of a college? How did a major differ from a double major or a specialist designation? Did all work-study positions involve research? And how did everyone expect her—a commuter student from Brampton with a part-time job in Vaughan, studying at the university's St. George campus—to excel in her courses while also becoming actively engaged in student life? By the time she figured out the answers, Gill was close to graduation, having had to fumble her way through some of the labyrinth that is U of T more or less by herself. So when, six years later, the opportunity arose to help smooth that same path for other students, she leapt at it.
Since January 2018, Gill has served as the University of Toronto's student recruitment officer for equity outreach and support, the institution's first. The long title reflects the broad range—and significance—of the role. Established in response to a clear need within the university to better attract and serve under-represented communities, the position takes a tri-campus approach to "demystifying undergraduate life at U of T," as Gill puts it, especially for those prospective students in the GTA who might otherwise feel that the globally renowned institution lies beyond their reach.
"What's it really like?" they, and their parents or guardians, all want to know. Of course, that is a question most incoming and future students have, but it holds particular weight for those who do not easily see themselves reflected in the current makeup of the university—for various reasons. "I do work a lot with Black and Latin American students, and support Indigenous ones," Gill says, but she admonishes us to remember that under-representation concerns more than questions of racialization. Students from various ethnic backgrounds may be the first in their family to attend university. Likewise, income, geography, physical ability or any number of other markers might lead to disproportionally low representation within the U of T community. Perhaps most important, these categories intersect, which can lead to a compounded sense of not belonging or, at the very least, of not knowing. It's an experience all too familiar to Gill: "My sense of overwhelm when I first entered university came from a combination of factors—being a first-gen student, a racialized student, a commuter student, a student who had to work throughout undergrad as well. There are layers to those things."
So, how does she respond? What is it like to study at the University of Toronto? Gill's first ground rule: no sugar-coating. "It will be challenging," she tells them. It will differ from the neatly structured requirements of high school, from the likely greater homogeneity of that environment, from the academic standards they know: "You're going to another level, so you're going to have to put out more, to work harder." But she also emphasizes that such hurdles do not translate into impossibility, and backs it up with data: 90 per cent of students manage the transition from year one to year two (the rate is even higher in some programs). Plus, U of T boasts more than half a million alumni worldwide, showing that more than 500,000 students before the ones standing in front of Gill at any point have achieved what they are setting out to do. Gill does not mean to diminish individual struggles or concerns with these broad numeric strokes; she just tries to create perspective.
She also directs her young listeners' attention to the many support systems they can access at the university's three campuses. This means breaking down the idea of colleges or faculties and the administrative and academic resources they offer. It entails talking about the broad range of work-study positions available to students, the many awards and scholarships, the importance of mentorship. Above all, Gill explains to them what she thinks the constant refrain of "getting involved" with student life should translate into and why. "I always stress it's really about finding community," she says.
Here, as in most of her other advice, Gill draws on her own experiences as an undergraduate. It was when she discovered the office of the Black Students' Association (BSA) in the basement of New College that she finally felt she had something to hold onto while navigating daily university life. The relationships she nurtured in the BSA and, later, in CARSSU (the Caribbean Studies Student Union) changed Gill's sense of belonging and, therefore, her entire undergrad experience. While she herself built strong culturally inflected affiliations, Gill insists that community does not have to be identity-based. If it floats your boat, the photography club might be the right place for you, or the fencing team.
Student groups like the BSA, or individual faculty or staff members throughout the university, support the kind of outreach and engagement work Gill performs, often on their own initiative and time. The BSA, for example, has for 19 years held the annual High School Conference to help encourage historically under-represented groups to pursue post-secondary education. Gill saw the impact she could have when volunteering at the conference as a student, and now, as a university employee, continues to collaborate with the BSA and a wide range of other groups and individuals to make U of T a more accessible and welcoming place to everyone.
Her official role may focus on those interested in the 700 direct-entry undergraduate programs available at the University of Toronto, but Gill weaves her network of co-operation and support broadly. "In an institution like this, the possibilities are endless once you start to collaborate," she affirms. Nonetheless, everything, be it collaboration or community, begins with the individual, with oneself. In Gill's words: "You have to foster in yourself and in your immediate environment the idea you want to see come to fruition. Eventually, your actions will ripple out and attract others with a similar mindset." This attitude empowers—and it acknowledges personal responsibility. Lydia Gill is up for both.